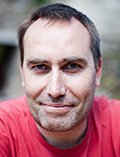 Hello, I'm Barry McCarthy, and welcome to my company barrymccarthyvisuals.
Over the last 20 years I have developed a range of multi-media services and an aesthetically unique approach to my client's projects thanks to my early training in fine art, followed by a strategic move into motion and graphic design.
A keen awareness of developments as they happen in the multi-media sector means the BMV solution to your needs is continually up-dating so you get the very best service and the very best and appropriate solution to your multi-media needs.